Understanding your water authority tax assessment
You receive your water authority tax assesment once a year. This tax helps the Public Water Authority Amstel, Gooi and Vecht to manage the water cycle. We would be happy to help you to understand your assessment.
View water authority tax assessment via My Waternet
Understanding your assessment
Amounts
There are 3 types of water authority tax. The type of tax you pay depends on your specific situation.
Are you a tenant? Then you must pay:
zuiveringsheffing (water treatment charge): a standard charge per pollution unit (ve) per year.
watersysteemheffing ingezetenen (water system charge for residents): a standard charge per household per year. You are obliged to pay for a whole year, based on your living situation on the 1st of January.
Are you a home owner? Then you must pay:
If your home is not connected to the sewer system you do not pay a water treatment charge. However, you do pay a pollution charge. This charge enables us to keep our canals and lakes clean.
Pollution units
A pollution unit (ve) is the average amount of pollution of 1 person per year. Your pollution charge is based on the number of pollution units (ve) of your home. Households of 2 or more people pay for 3 ve. Do you live alone? Then you pay for 1 ve.
When do I have to pay my water authority tax assessment?
You must pay your bill within 6 weeks after receiving you water authority tax assessment. The due date ('Vervaldatum') is stated at the top right side of your assessment. You must pay your water authority tax before the due date. If you do not pay in a timely manner you will receive a payment reminder. You will be charged a late fee.
Example
View example of water authority tax assessment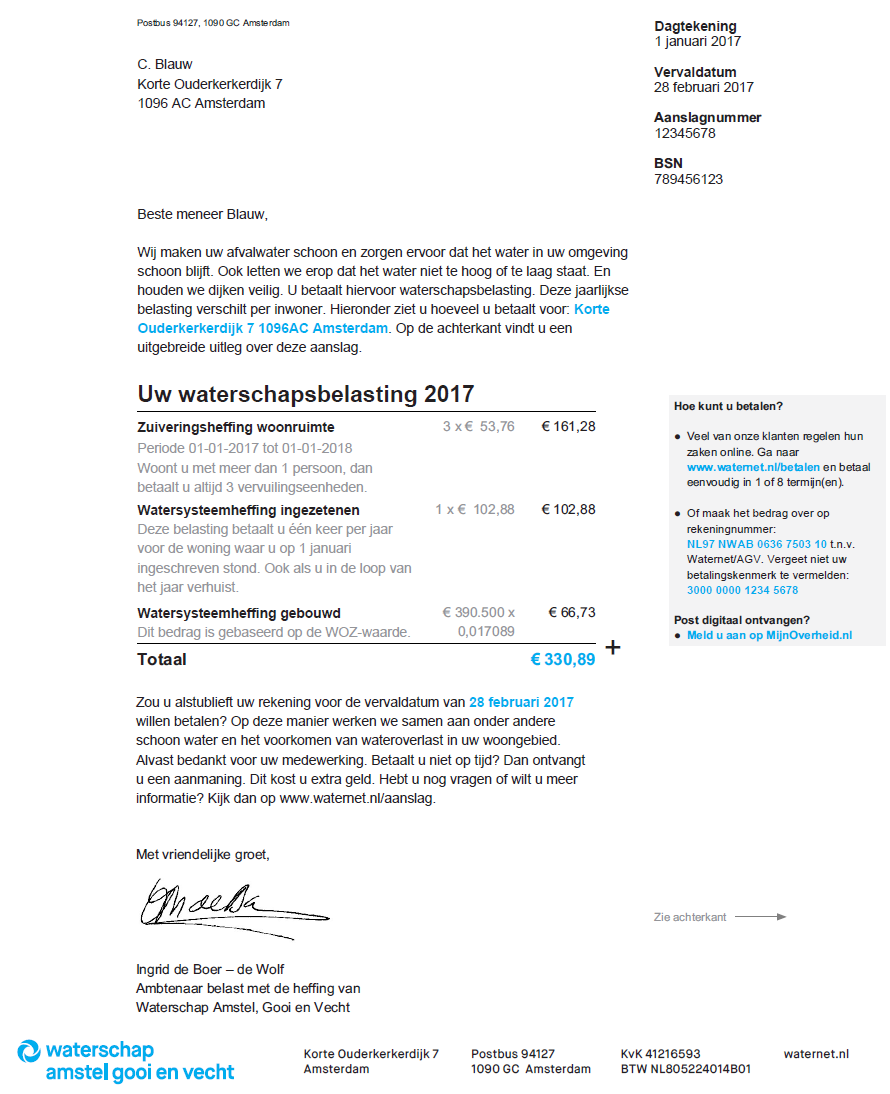 My water authority tax assessment and moving home
Moving within our area? Has the number of persons in your household changed? And do you still live in a rented home or in your own home? Then your assessment will not change.
Are you moving out of our area? Then you will receive an adjusted assessment. This is done automatically. The municipality informs us of your move.

Do I still have to pay after moving home?
Do you pay your water authority tax in 8 installments via Direct Debit? If you have not paid all of the installments you must continue to pay these installments after you have moved home.
Please view your outstanding balance on My Waternet. You may pay the outstanding balance in one go via iDEAL. In order to do so you must first change your method of payment at your payment options at My Waternet.